G&L Guitars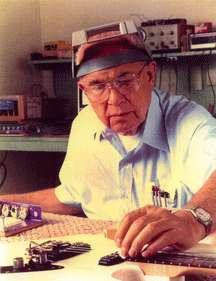 "G&L Guitars and Basses are the best instruments I have ever made." – Leo Fender

Why did Leo feel this way? Because he had endowed G&Ls with tone and technology breakthroughs that players still rave about. For example:
The Dual-Fulcrum Vibrato that's super-smooth and more stable.
The Saddle-Lock Bridge that transfers more resonance to the guitar body.
MFD pickups which are uniquely clear, warm, expressive and wide-range.
The PTB tone system that offers treble and bass cut for more versatility.
Leo wanted to be sure that G&L would shine even brighter when he was gone. He knew that he must look after his people, so that they would feel free to build on his legacy of quality and innovation. Every Made-in-Fullerton G&L comes standard with a genuine bone nut and PLEK fret processing for silky playability.G&L continues to make instruments with dedication and great skill in Leo's historic factory on Fender Avenue in Fullerton, California – The Birthplace of the Bolt-On. And inspiration is always close at hand, as Leo's private workshop, the center of his creative universe, remains as it was on his last day and has been visited by luminaries from throughout the music world.